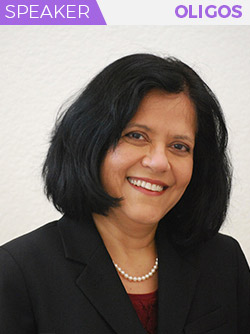 Biography
Susan is Founder and President of ElixinPharma, a scientific consulting firm dedicated to assisting emerging companies with their chemical development needs and writing/defense of CMC sections of regulatory applications of oligonucleotide-based therapeutics in simple and complex dosage forms. Since 1999, ElixinPharma has provided strategic CMC regulatory leadership for more than 60 oligonucleotide candidates in various stages of clinical development in the US, Canada, Europe, South America and Asia.
Susan served as Senior Director at Isis (now Ionis) Pharmaceuticals (1993-1999) where she was responsible for analytical development and quality control of oligonucleotide drug candidates from pre-clinical studies to marketing. She also had responsibility for writing and defense of CMC sections of US and international regulatory submissions including the NDA and MAA for Vitravene TM, the first oligonucleotide drug approved in the US and Europe (1997-98). Prior to Isis, Susan held positions of increasing responsibility at the Procter and Gamble Company, Allergan Inc., Abbott Laboratories and Telios Pharmaceuticals.
In 1998, Susan was elected to the PhRMA Analytical R&D Steering Committee and contributed to the ICH Quality Guideline, Q6A: Specifications for New Drug Substances. Susan received a Ph.D. in Analytical Chemistry from the University of California followed by post-doctoral research in NMR spectroscopy. She is co-editor of the "Handbook of Analysis of Oligonucleotides and Related Products" published by CRC Press in 2011.