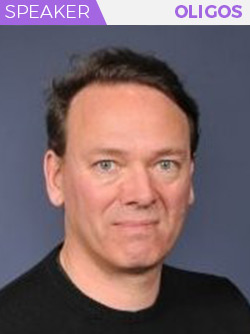 Piers Gaffney
Research Associate
---
Biography
Piers Gaffney studied chemistry before undertaking a PhD in 1988 at King's College London, UK in the synthesis of inositol phosphates. Through a series of post-doctoral positions this work led in 2002 to an MRC Fellowship at Imperial College London, UK on the biological chemistry of phosphoinositide lipids, after which he joined the Chemistry Department.
In 2011, as interest in the chemical biology of signalling lipids waned, PG joined Andrew Livingston's group in the Chemical Engineering Department at Imperial to build up the ability to combine synthetic chemistry with membrane separation in organic solvents. Initially PG focussed on the synthesis of high molecular weight mono-disperse poly-ethylene glycols (PEG) and their derivatives, an interest that continues to this day in the form of multi-functional branched poly-ethers for pharmaceutical conjugation.
However, a key collaboration soon developed with GSK, Stevenage into the membrane assisted synthesis of oligonucleotides (oligos). Over several years this project engendered several technical developments and a growing conviction that this approach could lead to a new liquid phase scalable platform for oligo synthesis.
In 2018 PG and Andrew Livingston founded Exactmer, dedicated to the production of exact polymer molecules including oligos, peptides and synthetic polymers such as PEG, using Nanostar Sieving technology. Exactmer, based at labs in East London, has grown rapidly and is dedicated to producing ton per year quantities of oligos using standard API facilities employing advanced membrane technology.