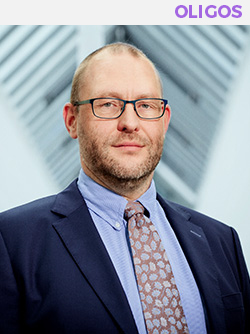 Christoph Rosenbohm
Head of Synthesis & Optimization
---
Roche Innovation Center Copenhagen (RICC)
Biography
Head of Synthesis & Optimization, RNA Molecule Research (RMR)
Pharma Research and Early Discovery (pRED)
Roche Innovation Center Copenhagen (RICC)
As Head of Synthesis & Optimization, RMR Christoph is responsible for leading the Oligonucleotides synthesis team and two Lead Design & Synthesis teams and as a member of the RMR-LT he participates in defining and setting the strategy for RMR.
Christoph holds a Master of Science and a Ph.D. in Organic Chemistry from the University of Southern Denmark (the lab of Prof. Jesper Wengel – one of the inventors of LNA). After his PhD, Christoph worked as a post-doctoral fellow at the Danish Technical Univerisity. In addition Christoph holds an executive MBA in Technology, Market and Organisation from Copenhagen Business School.
Christoph started his biotech career in Cureon as chemist with the task of synthesizing the LNA monomers. The company was later merged with Pantheco A/S to create Santaris Pharma A/S in 2003, where he become group leader for the chemistry team. Later the group was joined with CMC, Bioinformatics, PK and Pharmacolgy to form the Research Operation Department for which he became the director. A position he held until the acquisition by Roche in 2014.