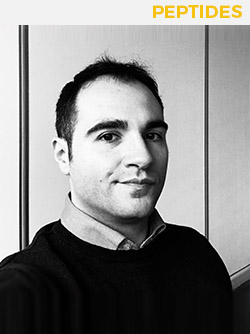 Umberto Romeo
R&D Manager
---
Biography
Umberto Romeo has more than 10 years of experience in drug product process design, development and manufacturing of chemical and biological compounds throughout all stages of development up to commercialization. As the current R&D Manager at Corden Pharma Caponago (IT), his main responsibilities are lead formulation, analytical development and industrialization activities for injectable drug products. Prior to his current role, he worked as Project and Alliance Manager in Evotec managing complex projects (from Discovery to Phase 3) to successful completion, covering all phases of the project management process (initiation, planning, execution, monitoring & control, and closure) leading project teams to deliver results within the constraints of schedule.
As a Drug Product Process Design and Development Principal Scientist at UCB he was responsible forCMC development activities of Biopharmaceuticals, with a focus on Drug Product Process Design, Development and Technology Transfer to GMP manufacturing sites. During his mission he established a Drug Product Process Design and Development department leading a team of 6 people and supporting the CMC development program of the whole UCB biological pipeline.
At Patheon Inc. he worked as a Technology Transfer-Project Manager where he successfully managed the technology transfer of more than 15 drug product manufacturing processes of oral, injectable lyophilized and liquid drug products for European, US, Japanese and ROW markets at Phase 3 /commercial scale into their Monza manufacturing plant.
Umberto graduated with a degree in Pharmaceutical Biotechnologies from Milano State University in Italy.