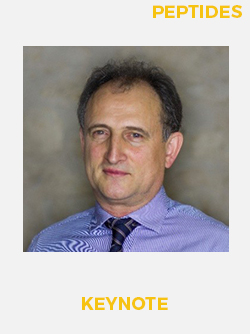 Frank Otto Gombert
Managing Director
---
GPRS – Gombert Pharma Research Solutions
Biography
Frank Otto Gombert is working in the peptide field since mid 1980s. For 27 years he headed several pharma research projects and groups in big pharma and start-up biotech companies. In 2016 he founded GPRS Gombert Pharma Research Solutions where he supports industrial and institutional partners in all aspects of pharma research and early clinical development, including full project management.
From 2002 to 2018 Frank contributed at Polyphor Ltd to the invention and preclinical development of three macrocyclic peptide drug candidates: Murepavadin (POL7080) in phase 3 development antibiotic against multiresistante Pseudomonas aeruginosa with a new mode of action. Balixafortide (POL6326), a CXCR4 antagonist proven in phase 2 development for the treatment of cancer and stem cell release. And POL6014 a highly selective Neutrophile Elastease inhibitor currently in phase 2 for the treatment of cystic fibrosis (CF) and Chronic Obstructive Pulmonary Disease (COPD). Additional activities at Polyphor Ltd included the target assessment and molecular design within custom research projects addressing protein-protein interactions by macrocyclic peptides.
From 1996 to 2002 Frank was involved at Novartis Pharma in the build-up of the automated combinatorial synthesis technology and established a high-throughput LC-MS purification lab.
At Sandoz Pharma he provided during 1991 and 1995 a peptidic PTH receptor agonist preclinical candidate PTS893 for the treatment of Osteoporosis.
Frank Otto Gombert earned his PhD in biochemistry and organic chemistry at the university of Tübingen, where he studied biochemistry.